It is estimated that there are around 6,500 spoken languages in the world. Out of those languages, English is one of the most spoken languages in the world only behind Mandarin Chinese. English is spoken all around the world, however, the language can be hard to learn. Thanks to a few language learning apps on Android, you too can learn English in a jiffy.
There are several apps available on the Google Play Store to learn English, however, not all apps offer an intuitive learning experience. To save you the trouble of having to find an app that's suitable for you, we've made things easier by selecting the absolute best 10 English learning apps on Android.
Best English Learning Apps for Android
Knudge.me
The app has the Editor's Choice badge on the Google Play Store and is one of the best apps to learn English through. It has a host of different courses based on English and you could pick and choose the topics you want to learn. Knudge.me helps you build up your vocabulary in three different stages — Easy, Intermediate, and Advanced.
The advanced section will benefit you for exams such as CAT, IELTS, TOEFL and more. Knudge.me uses interactive word games and presents information in cards to elevate your learning experience.
Duolingo
Duolingo is easily the most popular app to learn English and other languages. It's suited for those who are just taking the initial steps to learn English. The application makes the learning experience super fun and easy. Duolingo awards point to those who complete the lessons as incentives to learn more. You do not need to spend more than 15 – 20 minutes a day to learn new words and phrases. Duolingo also gives you feedback based on your performance to help you keep track of your progress.
Busuu: Learn Languages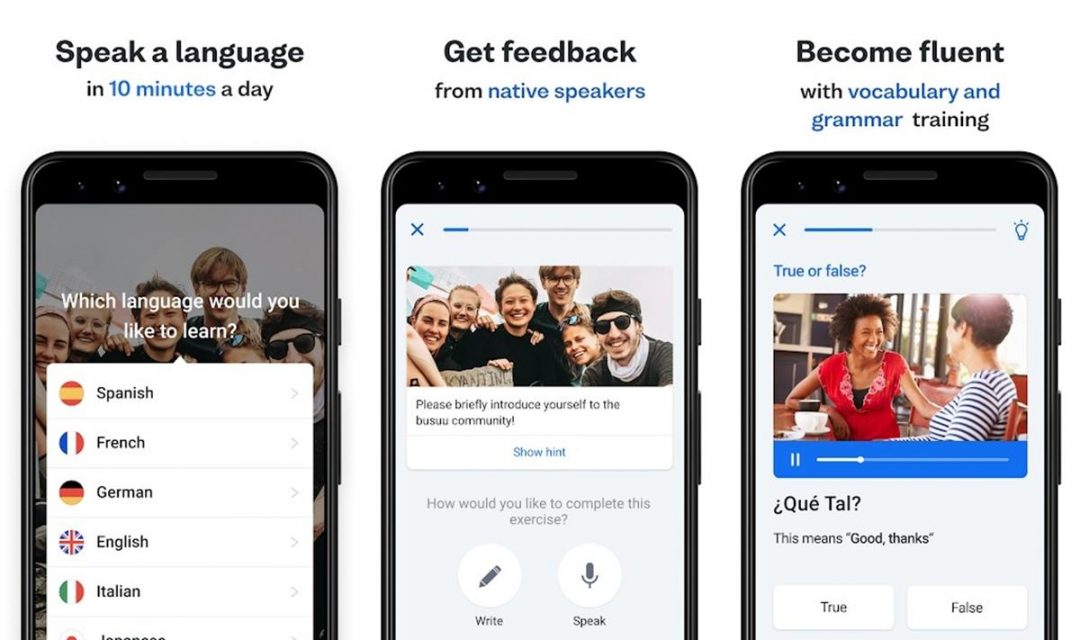 Here's another excellent English learning app that's good for beginners. What's even more interesting and unique to Busuu is that you can connect with the community. Doing this would help you get feedback from native English speakers. The application covers all the basics in its lessons such as reading, writing, speaking, and spelling in English. Apart from English are 11 other languages you can choose to learn within the app.
Drops: Language learning
Drops: Language learning comes with a beautiful user interface and has also been awarded the Editor's Choice badge on the Play Store. The application helps you learn English with illustrations and focuses on teaching you how to have a conversation in English. The 'micro-games' make the learning experience a tad more enjoyable thus you'd be willing to learn more. Each session lasts for just 5 minutes which is perfect for those who cannot devote more than a few minutes each day to learning via the app.
Rosetta Stone: Learn Languages
Rosetta Stone is a fantastic language learning app that distinguishes itself from the rest by offering its patented TruAccent technology. The app lets you read out short stories and provides instant feedback on your performance. You can even download lessons to learn at your own pace and without any internet connection. Rosetta Stone lets you access the Phrasebook feature where you can quickly learn up a few common phrases.
Don't Miss: Type With Confidence with Grammarly Keyboard
Moreover, the apps user interface is straightforward and easy to use. You'll have access to the app for 3 days for free. This gives you enough time to decide whether or not you want to continue learning with the app.
Memrise
Memrise is an award-winning learning application and is also one of the most popular language-learning apps on Android. The application connects you with real people who are native speakers of the language you're trying to learn. Every lesson on the app helps you develop conversational skills rather than just learning grammar. Memrise is worth checking out if you're interested in English speaking skills.
Simply Learn American English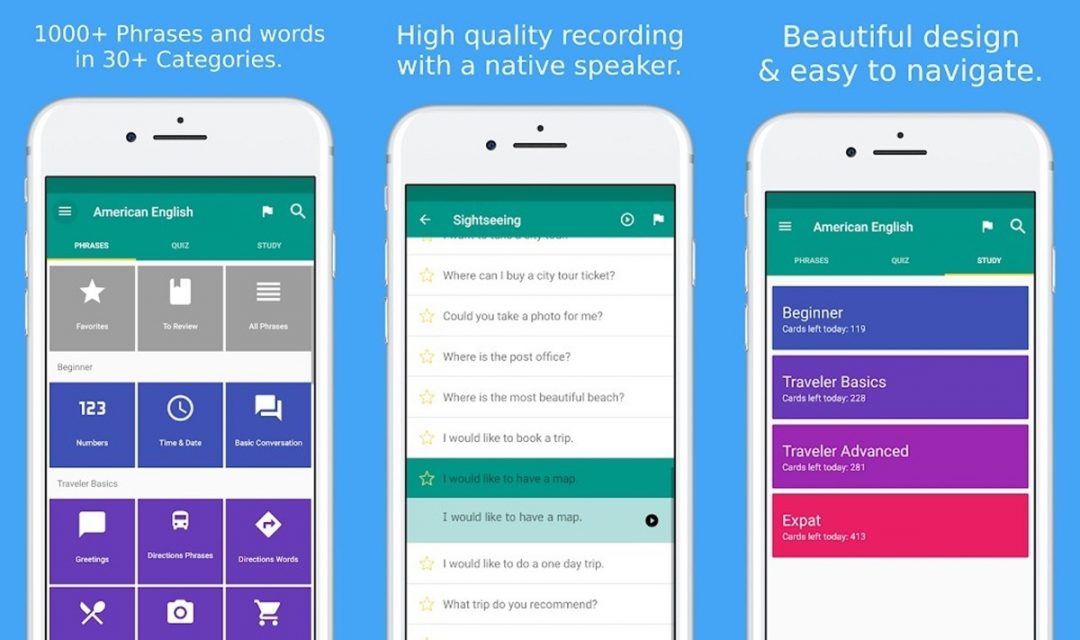 If you're looking out to learn American English, then you might want to check out this app. The free version is a little disappointing since you don't get access to a lot of words and phrases. However, the premium version does give you access to over 1000 words and phrases from over 30 different categories. The audio clips within the app are of high quality and the speaker is a native English speaker from the USA.
Beelinguapp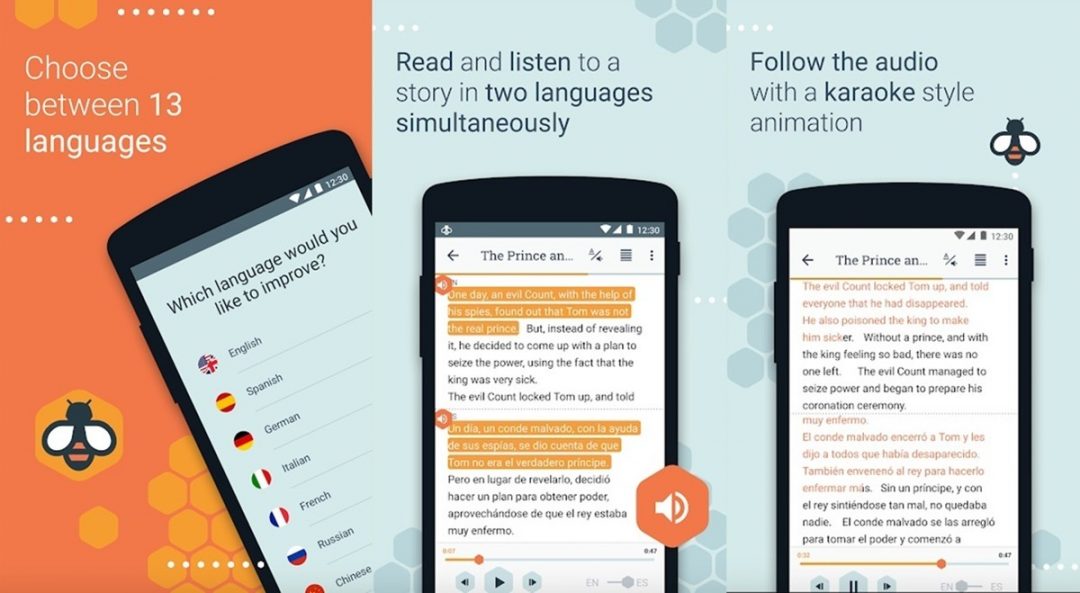 Beelinguapp helps you learn English and a few other languages. However, it does this in a way that's completely different from most other language learning apps. The app lets you read and listen to short stories, in different languages side by side. Therefore, you can read the story in your native language as well as in English or any other language to learn the words and phrases while doing so. We would recommend Beelinguapp only if you're interested in learning English by reading and listening to stories.
BBC Learning English
BBC's own app to help individuals learn English is free to use with no ads whatsoever. Unlike most English learning apps on the list, you do not have to pay to unlock features. The application gives you access to a host of different transcripts and quizzes to learn English from. A recent update also brought audio programs (6 Minute English, 6 Minute Grammar and 6 Minute Vocabulary) for users to learn from. These audio programs can be downloaded to listen too offline. The app receives new lessons even before they are available on the BBC website.
FluentU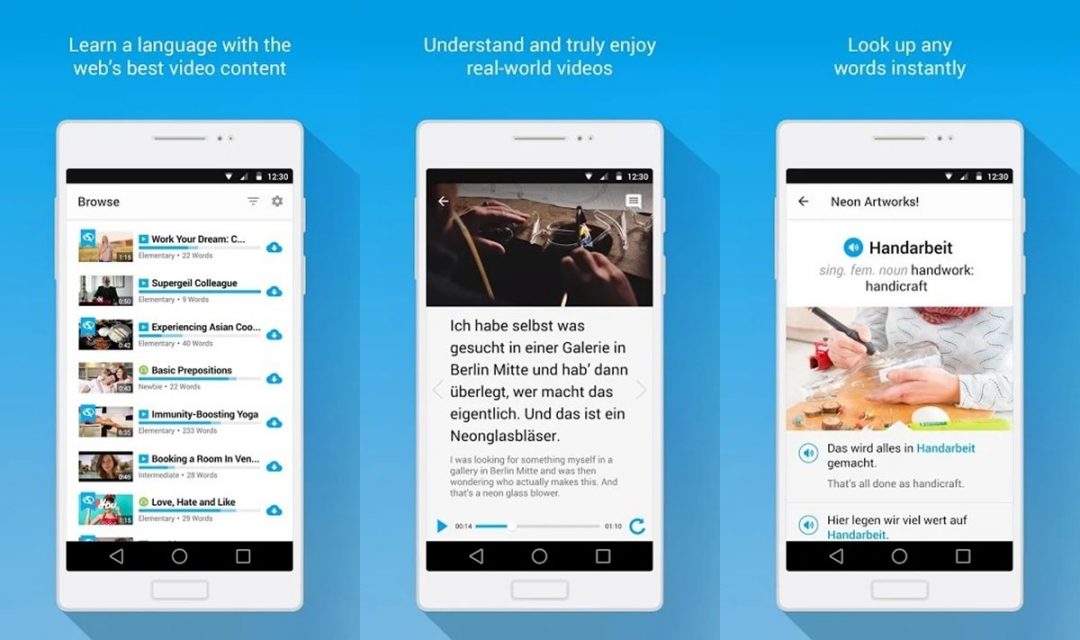 Here's another application that distinguishes itself from the rest by using videos from YouTube. All videos featured in the application credit the channels. The videos featured on the application are from various categories including inspiring talks and music. Some video lessons might not be what you're looking for, however, for the most part, the videos featured in the app would help you learn English in a more entertaining manner.
Read next: Type Words and Phrases in One Tap with Kboard