WhatsApp introduced an update late last year which allowed users to share stickers from within the app. Thanks to the app developers community, there are already hundreds of WhatsApp sticker packs for Android available on the Google Play Store to download.
Unfortunately, not every sticker pack is created equally and finding the best out of the bunch would take a tremendous amount of time. Sharing stickers in our conversations on WhatsApp adds a bit of playfulness thus we've picked out the absolute best WhatsApp sticker packs to check out.
If you haven't yet sent stickers on WhatsApp and aren't familiar with where to find the option, then you can check out how to send WhatsApp stickers on Android.
Best WhatsApp Sticker Packs
Sticker.ly for WhatsApp
This WhatsApp sticker application gives you access to hundreds of sticker collections. There's a sticker collection for everyone within the application thus you would be able to find something you like. What's even more fun is that you can create your very own sticker packs using this application.
The WhatsApp sticker pack application allows you to use Auto Cut technology which would let you cutout people, objects, or other things from the background. However, with the number of stickers available within the app, you'd not be forced to create your own.
Stickers Cloud
Here's another excellent WhatsApp sticker pack app that gives you access to over 500+ sticker packs from various categories. The stickers featured within the application are all high quality and are sourced from the internet. Therefore, you might see the addition of new stickers to the app often.
Some categories of stickers included in the app are; Anime Stickers, Meme Stickers, Christmas stickers, and Stickers Pepe. There are also celebrities stickers included in the application.
Stickers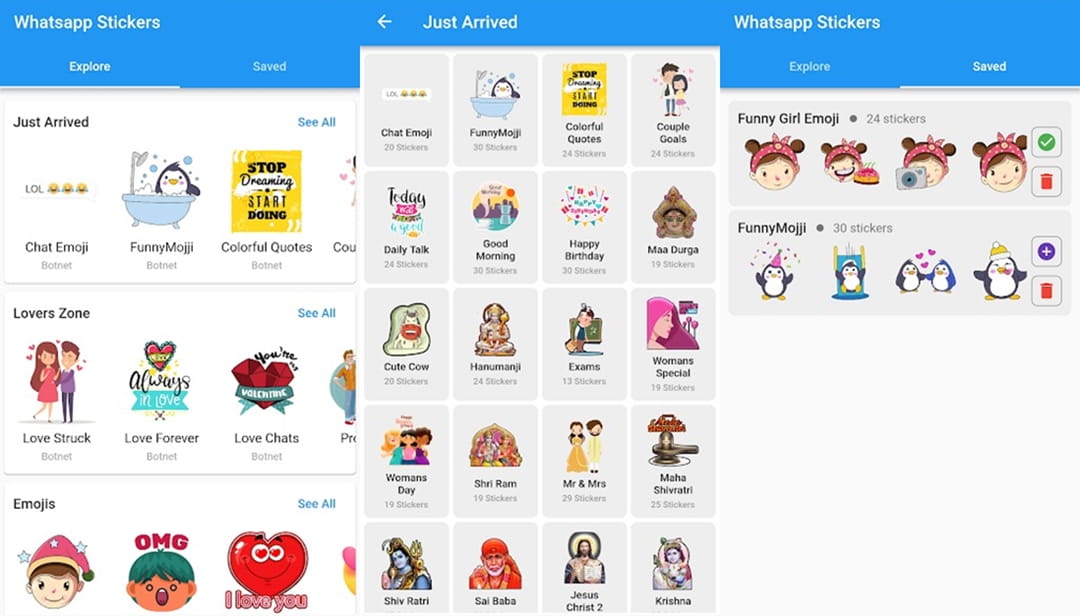 This is quite possibly one of the best sticker packs for WhatsApp currently available to download. The sticker pack application features over 180+ categories of high-quality stickers. Finding the perfect stickers to use while chatting wouldn't be an issue with this sticker pack.
Cartoon stickers
These beautifully crafted cartoonish stickers would take your WhatsApp texting experience to another level. Well, that might be an exaggeration, however, if you're someone who loves cute cartoon images, then this one is for you. The pack also comes with high-quality stickers and it includes Pokémon stickers too.
Unfortunately, the only downside with this sticker pack application for WhatsApp is that there isn't a huge collection of stickers to choose from.
WAStickerApps Characters Stickers
Most WhatsApp sticker packs are usually text-based, however, this cool sticker pack application has a ton of stickers based on various characters and objects. Every sticker within the app is well-designed and is of high enough quality to share on WhatsApp.
Don't Miss: How to Turn Off or Disable WhatsApp Status Feature
Texticker WAStickers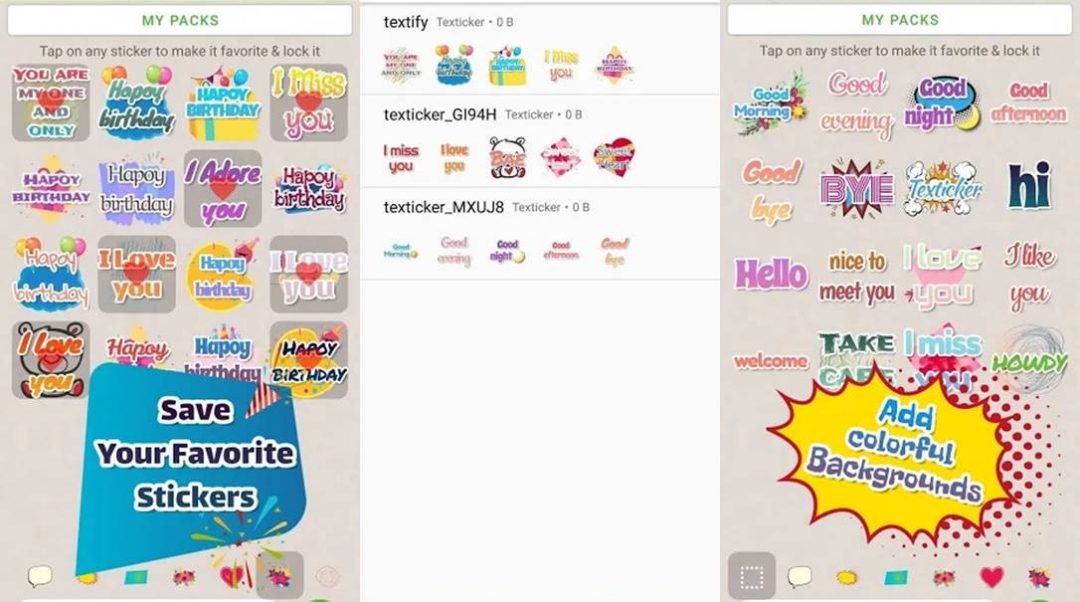 If you're looking for a great text-based sticker pack, then you might want to check out Texticker WAStickers. There are plenty of stickers to choose from within the application. This pack is perfect for sending stickers for greetings and well wishes since most of the stickers in the pack are greetings.
Dank Memes Stickers
Of course, we had to include a sticker pack application that has a bunch of cool memes. This sticker pack for WhatsApp has a bunch of memes for you to share with your friends. It's even loaded with the Rage Face memes which were are the OG memes from back in the days.
Big Emojis Stickers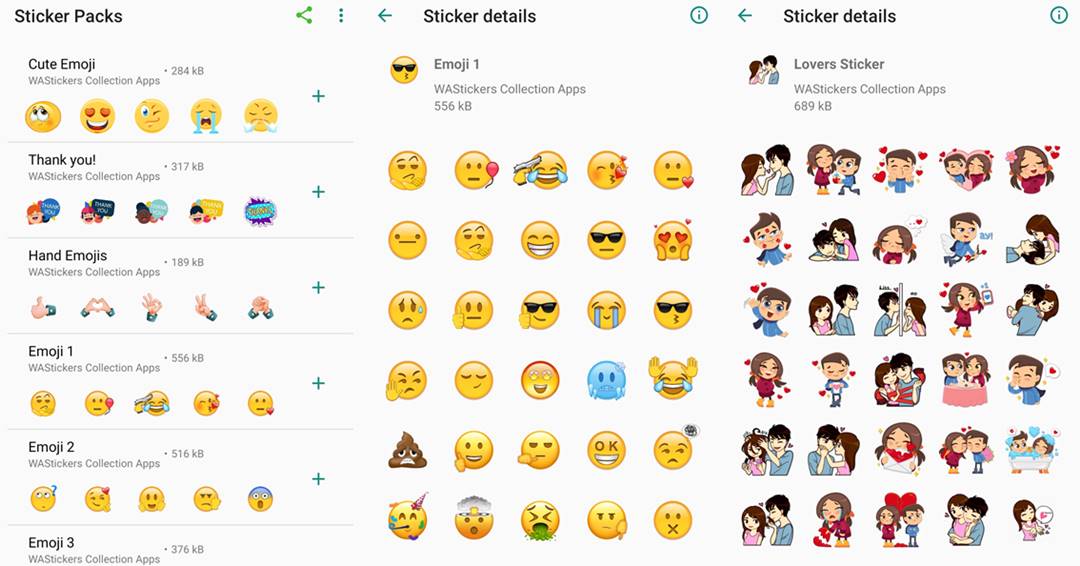 If you aren't already getting enough of the emojis on your smartphone, then this sticker pack is here for the rescue. As the name suggests, most stickers included in the pack are enlarged emojis. However, there are a few other excellent sticker categories within the application. These stickers are of high quality and you're getting exactly what you expect.
Newfie Emoji for WhatsApp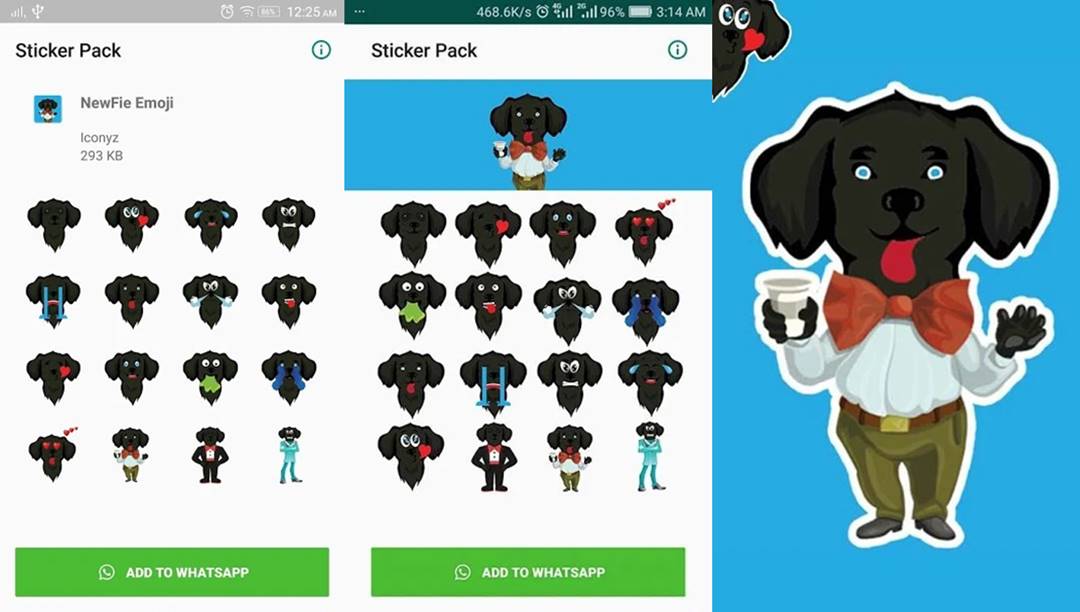 If you're someone who likes dogs, then this cute sticker pack is worth checking out. The sticker pack has a few well-crafted images of a dog named "Newfie". Each sticker is of high quality and has a fun touch to it. This sticker pack is available for a fairly low price and is definitely worth it if you're someone who loves dogs and animals in general.
Game Stickers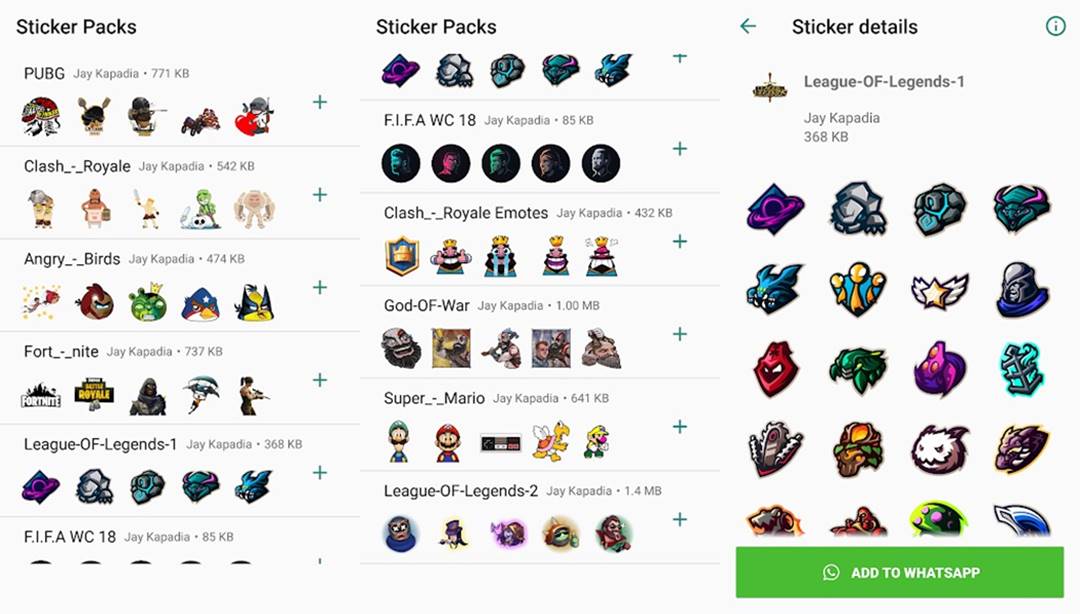 If you're someone who loves playing games, then this sticker pack is for you. The WhatsApp sticker pack application comes with stickers from various popular games including PUBG Mobile, Fortnite, and League of Legends. All the stickers in the application are of decent quality. Unlike a few other sticker packs, the stickers in the app aren't just ripped off images.
If you want more customized stickers that reflect your personality, learn how you can create custom WhatsApp stickers.
So these were our top picks for the best WhatsApp sticker packs available on the Google Play Store. Download these WhatsApp sticker packs and have more fun while chatting. What's your favorite sticker pack for WhatsApp? Let us know in the comments below.
Read Next: Create Your Own Icon Packs with Icon Pack Mixer