Online shopping has made our lives a lot easier. And if you often shop online, then there are a bunch of package tracking apps on Android that you must try out. These applications help track all your orders without having to open multiple links and apps. Thus, not only are the package tracking apps convenient, but they also help save time and keep track of shipments. However, if you want to know about 3 different methods to track lost Android devices, read our guide on the same.
To help you pick the best app for the purpose, we've selected only the best package tracking apps on Android. You can choose to download any application listed below based on your personal preference. The list is in no particular order. So check out all the apps before making your final choice. And if you don't want to be interrupted by the push notifications via these tracking apps, we'd suggest checking out how you can use Focus Mode on Android to avoid distractions.
Arrive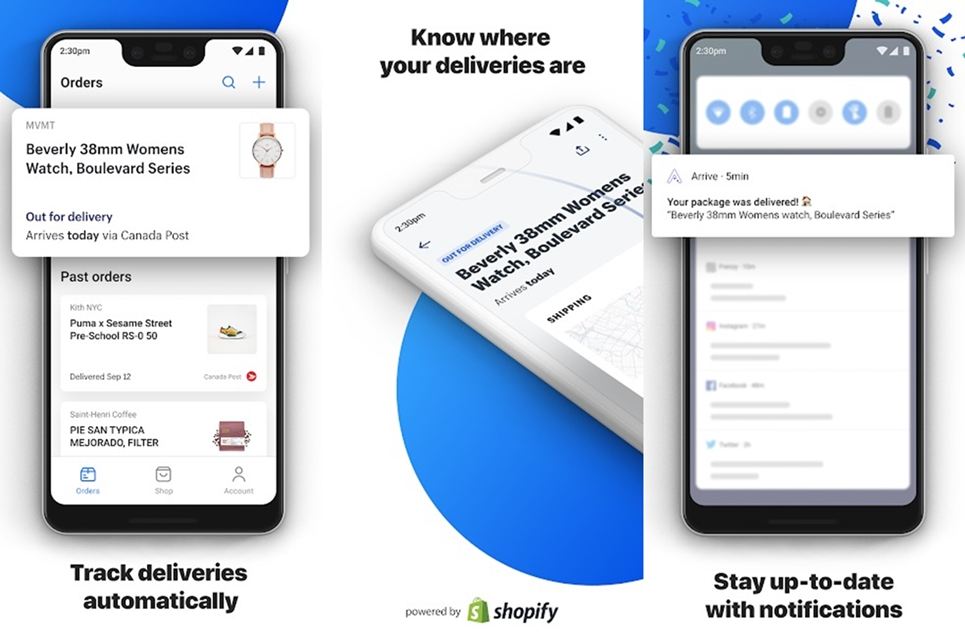 This app comes straight from Shopify Inc. Arrive's user interface is arguably the best amongst all other apps in the list. It does support tracking from most major online retailers. The app does support automatic syncing with Gmail. Thus, you wouldn't have to worry about manually entering details to track a package. You can add multiple email accounts within the app to have it track packages from the emails. Additionally, the app also has live map tracking that shows you the location of the package on the map. To make things easier for you, the app even lets you contact the store or carrier you order your item from for any queries or support.
17Track
Being one of the most popular package tracking apps on the Google Play Store, 17Track is an app you must check out. The app supports over 500 worldwide carriers. Thus, you most likely wouldn't face issues where the app is unable to track the package. You can add up to 10 tracking numbers at the same time. And the app does support email package tracking as well. Moreover, the app can even automatically detect the carrier by its tracking number. Of course, you would receive push notifications each time the status of the package is updated while shipping.
Check out: 7 Apps to Limit and Monitor Phone Usage on Android
AfterShip Package Tracker
AfterShip is another excellent parcel tracking app that's free to use with no ads. The best part about the app is its support for over 600 carriers which is way more than most other package tracking apps on Android. It does support automatic carrier detection when you enter a tracking number. The app even lets you share the tracking links with others with just a few taps. Additionally, as you might expect, you will get push notifications when the status of the package is updated by the carrier.
ParcelTrack
This is a great feature-rich parcel tracking application. It can track parcels from almost all major carriers including UPS, USPS, DHL (Express), FedEx and others. ParcelTrack has an interesting feature that assigns every user with a random ID and email inbox. You can use this to forward the emails you get from the carrier and it would automatically extract the tracking ID. The app also supports auto-carrier detection by the tracking number. Additionally, users who purchase the premium version can access the feature which allows you to see if the package has been left with a neighbor. Premium users can also use the synchronization feature which allows you to use the app on multiple devices.
OneTracker
Last but not least, OneTracker isn't as popular as some of the other package tracking apps on the list. But the app has made it on this list due to its beautiful UI and completely free availability. Hence, there are no ads or premium subscriptions. The app also respects your privacy and rather than scanning your personal email account, it provides you with an inbox.
Thus, you can forward only your shipment emails to the app-provided email and it will automatically recognize the tracking ID. You can also track packages manually via the barcode scanner or automatic clipboard detection. Furthermore, you can sign up for a free OneTracker account and track shipments on multiple devices.
These are the top 5 package tracking apps on Android at the moment. All five applications offer similar features and you couldn't go wrong by choosing either of the apps listed above.
Read next: Top 8 Unique Android Apps You Must Try