You may already know that Android is the most customizable mobile OS in the market. There are plenty of apps available on the Google Play Store to help you customize your device. Speaking of customization, KWGT widgets are one of the best ways to elevate your homescreen setup with minimal effort. To make things easier, we've picked the best KWGT widget packs for Android on the Play Store. Before you scroll down, you may want to check out how you can enable dark mode in the Google Play Store.
Some of these widget packs are paid applications while some are absolutely free. Although, it's worth noting that to use these widget packs you would be required to purchase the KWGT Pro version. So without any further ado, let's jump right in and check out the best KWGT widget packs.
If you aren't familiar with how to use KWGT to customize your Android's home screen with Kustom Widgets, check our or guide for the same.
huk kwgt
The huk kwgt pack is easily one of the best widget packs for KWGT currently available. The pack comes with 200 well-designed widgets for you to choose from. There's a widget for everyone in the pack since you have access to a few minimalistic widgets as well as a few over-the-top stylish ones. Most widgets in the huk kwgt pack are text-based thus they would work well on minimal backgrounds.
Odisea KWGT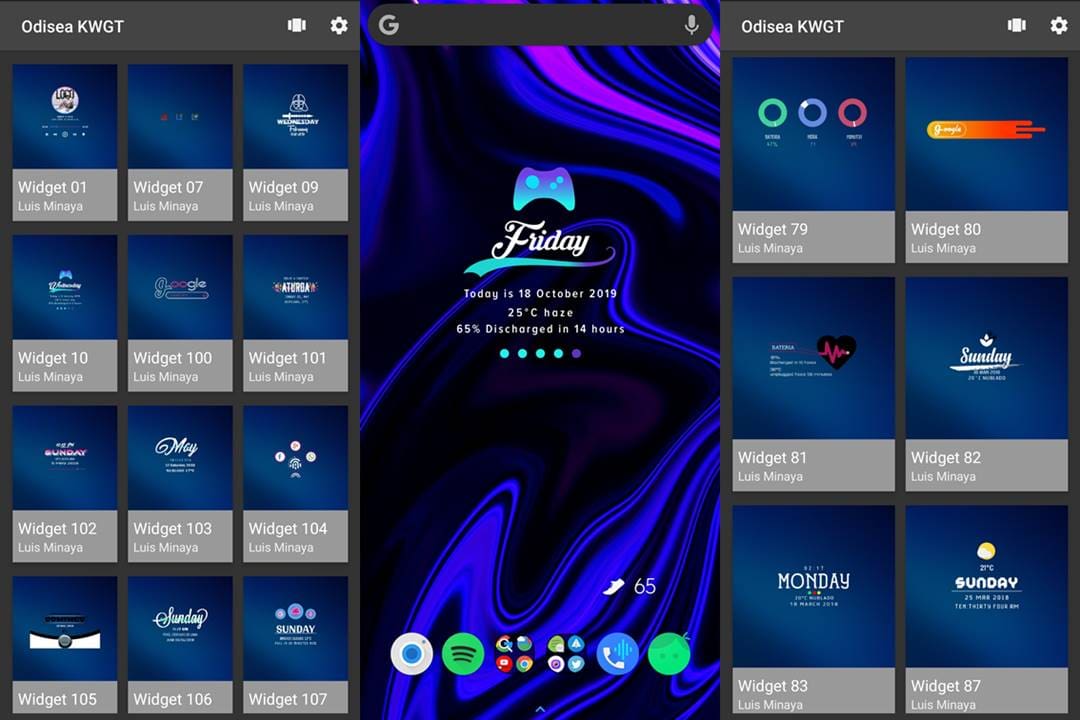 The Odisea widget pack is another excellent KWGT pack. There are over a hundred stunning widgets included in the pack. Most widgets in the pack have gradient colors that look amazing when paired with a suitable wallpaper. There's just about every widget you could need within the Odisea KWGT pack. However, it's worth noting that these widgets might not be the best for those looking to create a minimalistic setup.
Check out: A Beginner's Guide to Android Customization
Pixxy KWGT
If you're someone who adores Google's material design language, then the Pixxy KWGT pack is one you must try out. Every widget in the pack looks like something Google would have designed if they made widget packs. These card-based have bright yet pleasing to look at colors and go well with almost any wallpaper. The Pixxy KWGT pack is a paid widget pack and these beautiful widgets are worth paying for.
Ornate KWGT
The ultra-minimalistic widgets in this pack would leave you wanting for more. Every widget in the pack has a minimal aesthetic and looks beautiful when paired with the right wallpaper. Ornate comes with all the widgets for items and services you would expect from a KWGT pack. More importantly, the pack is available for free which means its a no-brainer to give the Ornate KWGT widgets a look at.
Exquigets for KWGT
Here's another great KWGT widget pack that's packed with over 90 minimal yet functional widgets. The pack includes widgets for the weather, news, calendar, music, dock, typography and more. As a bonus, you would also have access to 50 QHD+ wallpapers that go along well with the widgets in this pack. Exquigets is a paid widget pack, however, if you're looking to create a functional and elegant setup, then we'd suggest giving this a go.
Modern UI for KWGT
Modern UI for KWGT brings forward a set of gorgeous flat widgets that follow the material design language. These flat style widgets with rounded corners will enhance your homescreen setup by adding a minimalistic vibe to it. The widgets go well with dark and light backgrounds too.
Feast KWGT
Feast KWGT pack is loaded with 120 cool widgets. Certain widgets in the pack can be used to replace your entire homescreen as well. There are a few simple and minimal widgets to pick from, however, you could also go for a sophisticated homescreen setup with other the info-packed widgets in Feast.
Andromeda for KWGT
Andromeda for KWGT is another excellent widget pack for KWGT which is fairly popular in its own rights. Most widgets in the pack follow Google's material design language, however, a few widgets take a completely different approach to design. You would get a total of 62 widgets in the Andromeda for KWGT pack. The widget pack is free to download hence making it a great option to check out.
Foxie for KWGT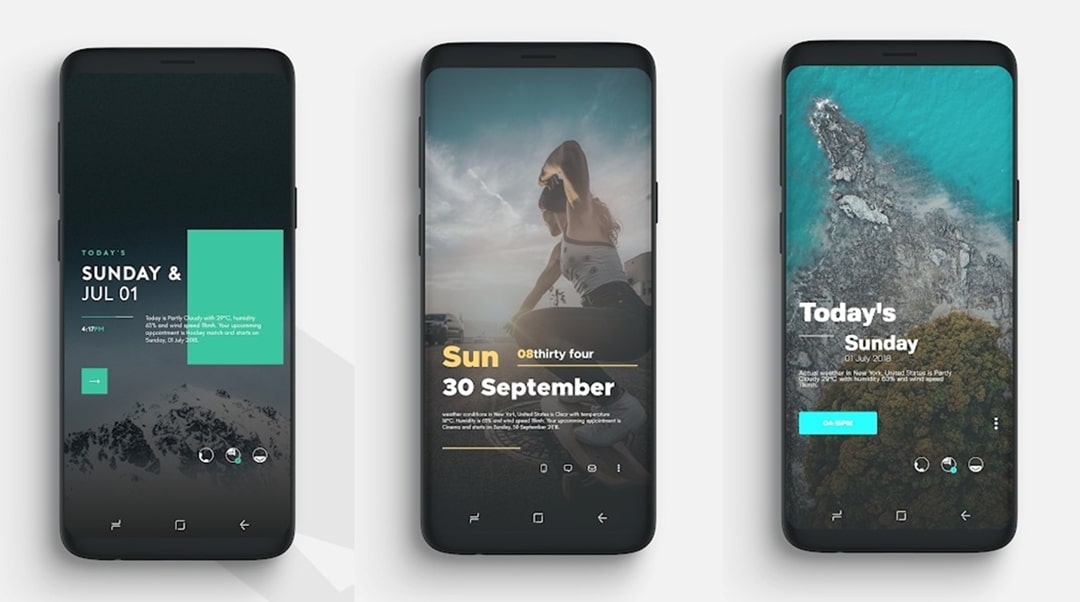 Foxie is a relatively new KWGT pack when compared to some of the other packs on the list. The widgets that come with the pack are some of the best-designed widgets you will find on Android. The widgets make use of small text and have a minimal design. A few widgets also have a card-based design which is perfect for those looking out to create a Pixel-like homescreen setup.
Read next: 10 Best Android Launchers Recommendations