Discussed here are the steps to remove your location from images shared via the Google Photos app. The app has tons of pretty useful functionalities that makes photo sharing a much easier job. One among them is the Link Sharing feature. You could share hundreds of photos at one go, even without downloading them onto your device. The images received will be exactly in the same quality as it was originally taken. Apps such as WhatsApp won't (rather couldn't) compress these images, all thanks to this link sharing functionality. But while you opt for this method, all the images metadata also gets sent over to the receiver who gets this link.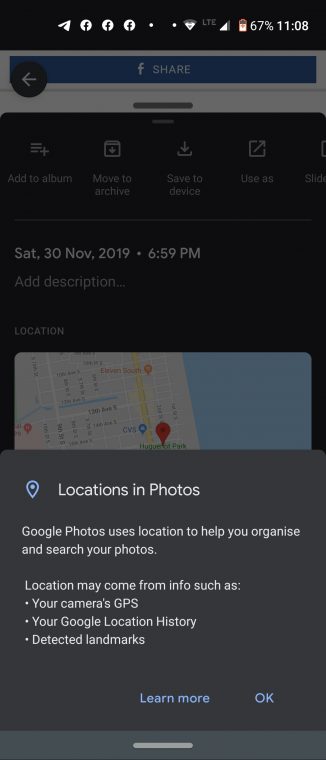 This metadata holds tons of information related to that image. Most importantly, it holds the precise location of the image where it was taken. And you wouldn't definitely want everyone to get their hands on this piece of information. So, in this tutorial, we will be discussing a method through which you could easily remove the location data from the image before sharing it via Google Photos. Follow the below steps to do so. Also, don't forget to check out other Google Photos tips and tricks.
Remove Location from Images in Google Photos
Your location is stored in images under the EXIF metadata. And if someone receives the image via the Photos app, all he has to do is perform a swipe up gesture. The pin-point location of that photo will be shown on the map. Here is how you could remove this location of yours from images in Google Photos. However, if you wish to trace any email via it's IP address, see our guide on the same.
Open the Photos app and tap on the hamburger menu.
Select Settings from the menu and head over to the Sharing section.
Now just enable the Remove geo-location toggle. 
That's it. You have successfully removed your location from the images in Google Photos (which has just received a markup tool as well). But do have a closer look at its description: "From photos and videos that you share with a link, but not by other means". So this method only works if you send media files via the Link Sharing feature.
If you download an image and then send it to someone, your location might still be present there. So, what could be done in such cases? Well, it turns out there exists a method of manually removing the location from images in Google Photos as well. This is how it could be done.
Don't Miss: Remove or Sign Out of Google Account on Android
Manually Removing Location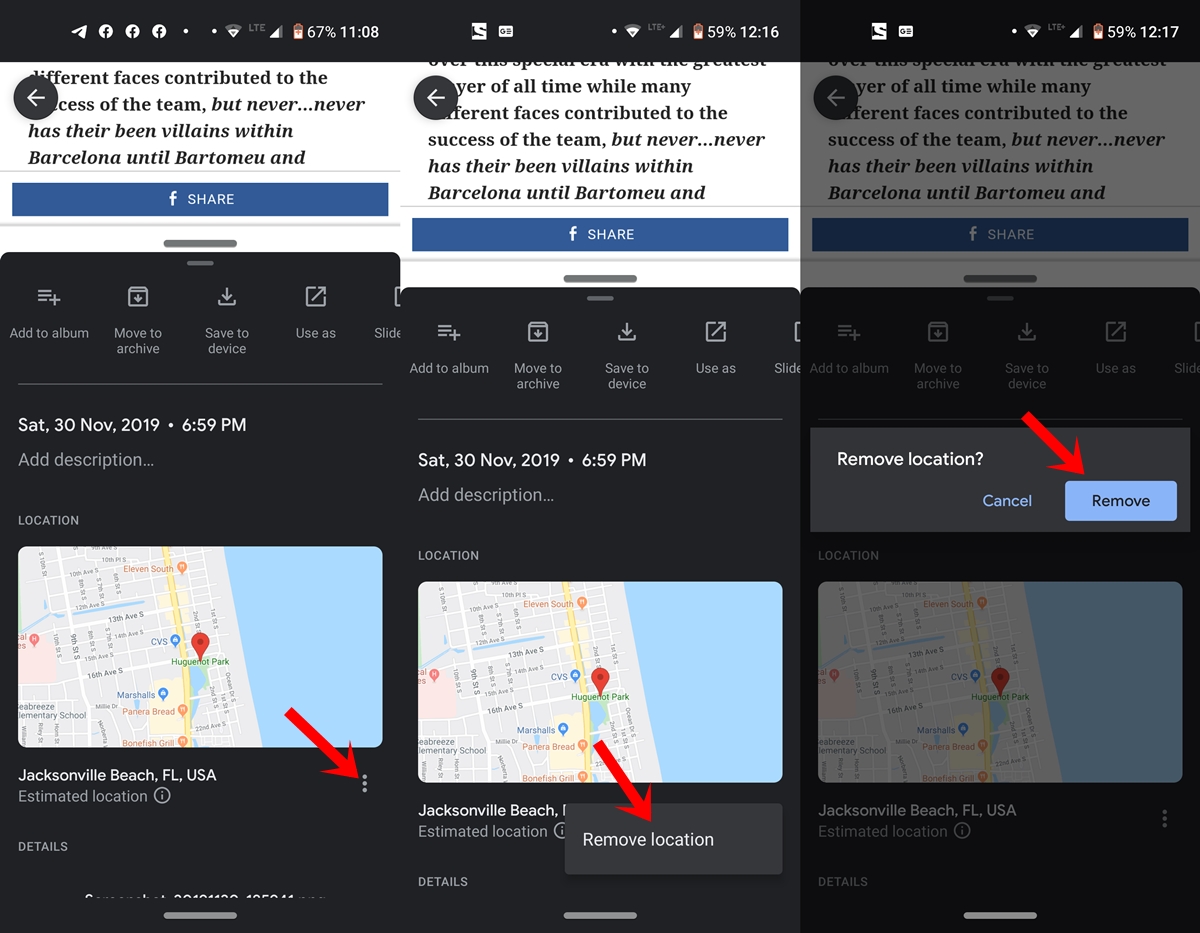 Open the desired image from which you need to remove the location.

Perform an upward swipe on it or tap on the overflow menu at the top right.

Next to the location, you will see an overflow menu, tap on it.

Select Remove location and tap on Remove in the confirmation dialog box.
That's it. You have successfully removed your location from the image in Google Photos. You could now easily send it via any preferred method of your choice. 
Read next: Google Photos receives a Crop Document Extension